Rene Sandler named to 2023 SuperLawyers Top 50 Women Lawyers in Maryland, Top 100 Lawyers in Maryland, and is one of best criminal lawyers in the State.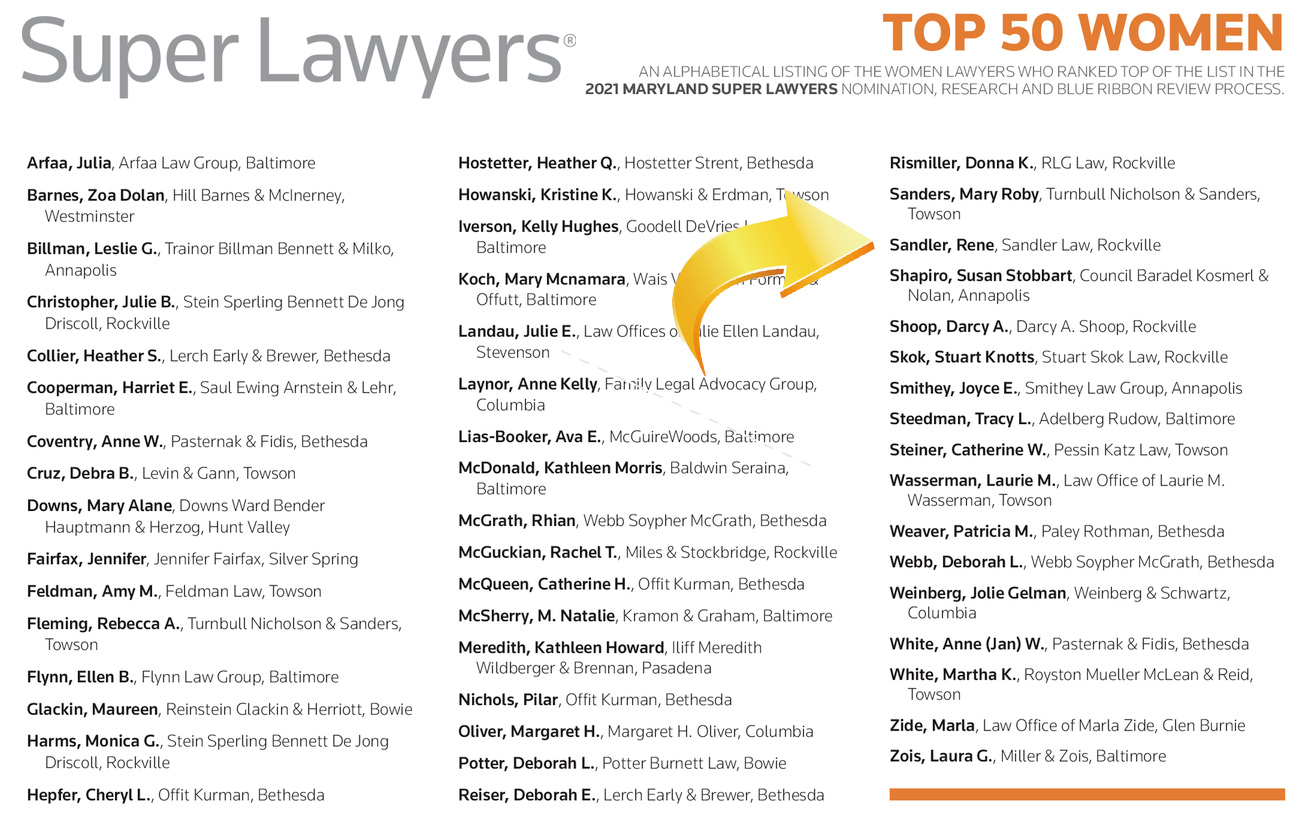 Maryland Attorney Rene Sandler

Why Maryland Attorney Rene Sandler?
Experience. With experience in jury trials and complex litigation, Rockville, Maryland Attorney Rene Sandler is prepared to handle cases in both State and Federal Courts in Maryland. Rene Sandler has a genuine interest in the law and maintains knowledge of cutting edge issues and legal developments by attending continuing legal education courses, seminars and other training which ultimately benefits the firm's clients.
Cutting Edge. Rene Sandler is a skilled advocate and uses state of the art tools in investigations to afford clients the best possible defense. Rockville, Maryland Attorney Rene Sandler's knowledge and skills in the area of forensic evidence gives the firm's clients cutting edge knowledge for their case.
Zealous Advocacy. The philosophy of the law firm is to provide zealous advocacy and personal attention to each client throughout the legal process.
Communication. Rene Sandler regularly communicates with her clients to keep them up to date and informed about legal developments in their case.
Areas of practice for Rockville, Maryland Attorney Rene Sandler include criminal defense, protective orders and peace orders, DUI and traffic violations, appellate law, personal injury, MVA hearings and child protective services investigations (CPS).
Duncan Lemp Case and Maryland's Red Flag Law
Attorney Rene Sandler and Jonathan Fellner represent the family and girlfriend of 21 year-old Duncan Lemp, who was shot and killed on March 12, 2020 during an attempt by Montgomery County Police Department SWAT officers to execute a search warrant for his home at 4:30 a.m. in Maryland. The Duncan Lemp case has highlighted Maryland's tough firearms laws including its Red-Flag Law. 
Judicial Watch files lawsuit against Montgomery County Police Department for release of body camera video.  Read Article

Sandler said Lemp's family appreciates Judicial Watch for "pursuing accountability and transparency of police conduct" during officers' entry of their home. Sandler has criticized the police department for refusing to release any videos of the shooting or even confirm whether such evidence exists.
"For five months after police killed Duncan Lemp in his own bedroom, police have said nothing, revealed nothing, and have refused the grieving Lemp family any information about his death," she wrote in an email Tuesday. Read Article
One Year Later: The Police Still Won't Come Clean on Duncan Lemp's Death. Read Article
Other articles:

Duncan Lemp killed March 12, 2020 during a no knock warrant by Montgomery County Police see recent articles: